How to Remove a Garbage Disposal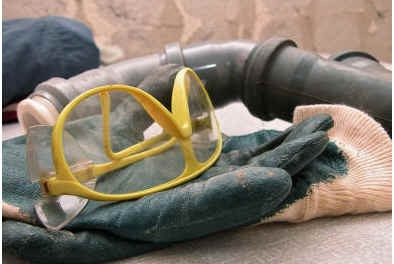 Removing a garbage disposal may not be as hard to do as it seems. Many people are afraid of plumbing tasks such as this. Yet, a person may need to replace a worn out food disposer. In addition, many kitchen remodeling projects may call for removing the garbage disposal. However, if the person follows these instructions, the project will not take very long. Most people rate this do-it-yourself project as easy to moderate.
Tools and Materials Needed:
Screwdrivers (flat-head and Phillips or a multi-bit)
Open-end wrench, pipe wrench, channel-locks, or adjustable pliers
Small bucket or pan to catch water, and clean up rags
Tape measure and pencil
Pipe cutter or hacksaw
Plumber's putty
A light source to see by
Either a new garbage disposal or new drain pipes with sink strainer/flange (drain pipe kit)
Additional tools, such as a hacksaw or tubing cutter may be needed. Pipe adhesive may also be needed. It is normally much easier to replace all the piping rather than trying to salvage any of them. However, if only replacing the disposal unit, it may be possible to reuse the existing lines if you are careful.
Steps:
Turn off the disposal's power supply at the circuit breaker and on/off switch.

2. Place bucket (pan) under the p-trap, loosen nuts holding the p-trap on, and remove p-trap.

3. Disconnect dishwasher waste line from supply line, if there is one.

4. Disconnect horizontal disposal discharge line from supply line, loosen the bolt or screws holding the pipe leading into the disposal's discharge outlet, and remove the pipe.

5. Rotate the unit counterclockwise until it comes loose from the mounting assembly. (Using the special tool or a screwdriver may help)

6. Disconnect copper ground wire (may be a green wire), and take cover plate off the base of the disposal. Pull out the wiring, and disconnect all of them by taking off the wire nuts.

7. Use a screwdriver and remove screws and snap ring from mounting assembly, then remove rest of mounting assembly. However, if the new disposal is the same model as the old one, the mounting assembly may not have to be replaced.

8. Either install a new garbage disposal and replace necessary drain lines, or install all new pipes and connections, following the manufacturer's directions.
Resources
"How to Install & Replace a Garbage Disposer – MonkeySee."     How to Videos on MonkeySee – Free Instructional Videos  . N.p., n.d. Web. 25 Mar. 2010. http://www.monkeysee.com/play/9802-how-to-install-and-replace-a-garbage-disposer.
"How to Replace Your Garbage Disposal: Step-by-Step DIY – Popular Mechanics." Popular Mechanics. N.p., n.d. Web. 25 Mar. 2010. http://www.popularmechanics.com/home_journal/home_improvement/1276526.html?page=2.
"How to Replace a Garbage Disposal : How-To : DIY Network." DIY Network – Home Improvement How-To & Projects : DIY Network. N.p., n.d. Web. 25 Mar. 2010. http://www.diynetwork.com/how-to/how-to-replace-a-garbage-disposal/index.html.