How to Repair Sheetrock Walls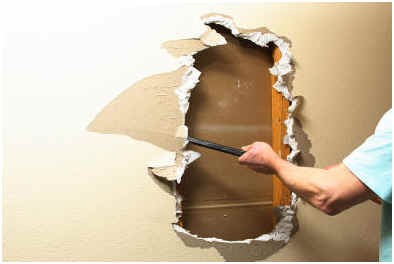 If you are faced with a very large damaged portion of your sheetrock, it will likely require a patch repair job.  Here are steps to patching a wall to avoid having to replace the whole sheetrock panel.
Make the hole square. Using a level draw a perfect square around the hole in the sheetrock. Cut the square out with a drywall knife. If part of the square hits a stud, use a utility knife.
Create solid backing material. Cut two 1×4 pieces of wood slightly longer than the length of the hole. Apply a liberal amount of construction adhesive to the board on the top and the bottom and slide it into the hole. The side with the adhesive should be facing toward the hole. Position the each board so that one is backing the left side of the hole, and one is backing the right. Press firmly into place and secure with wood clamps. Let dry.
Cut a restoration piece. On a piece of paper, trace a template of the square hole. Use this template to cut a piece of sheetrock to fill the hole. Placing the sheetrock repair piece inside of the hole, attach it to the backing board with sheetrock screws.
Tape the seams. Using self-adhesive mesh drywall tape, tape the seams ensuring that the tape is centered over the seam. Allow for overlapping at each corner.
Apply drywall compound. Cover the tape and seam with a thin layer of drywall compound. Allow to dry. Level the seams by sanding the new drywall with a hand sander specifically designed for drywall applications.
Integrate the new drywall with the old. Apply several applications of drywall compound over the repaired portion of the wall. Let fully dry in between applications. When the final application is dry, sand.
Resources
"Drywall Repair – How to Repair Drywall – Popular Mechanics." Automotive Care, Home Improvement, Tools, DIY Tips – Popular Mechanics. N.p., n.d. Web. 10 Nov. 2010. http://www.popularmechanics.com/home/improvement/interior/1276947.
"HOMETIME HOW TO, Drywall – Tools." HOMETIME. N.p., n.d. Web. 10 Nov. 2010. http://www.hometime.com/Howto/projects/drywall/drwl_1.htm.