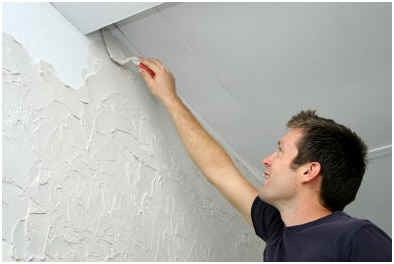 Texturing sheetrock can be a great way to improve the appearance of your walls or ceiling. Texturing can create an appealing and dramatic effect as well as cover imperfections or cracks in the surface. This is a relatively easy project for you to do yourself. Texturing can be done using a machine or by hand.
Preparation
There is some preparation needed to texture sheetrock. Drop cloths or newspaper should be put down to protect the floor, and furniture and decorations should be moved out of the way. Thinned joint compound, or a specialized texture compound, should be used to create the texture. If you do not have much experience working with joint compound, you may want to practice creating the texture you want on large sheets of paper hung on the wall. A texture sprayer can be used for machine texturing, but if you want to work by hand, you will need a paint roller pan, a paint roller with a handle long enough to reach the entire surface, and any texturing tools you would like to use.
Using a Machine
Using a texture sprayer to texture sheetrock will let you create a light, even texture on the surface. The texturing material is simply poured into the hopper and can be sprayed on the walls. It is important to follow the manufacturer's instructions when using the texture sprayer and texturing materials. This method is considered easier but does not allow as many design options as working by hand.
Texturing by Hand
When texturing by hand most use a paint roller and pan. The texture compound can be poured into the pan and used like paint. The peaks of the texture will be high if you roll slowly and low if you roll quickly. Rolling vertically will create a classic textured look, but it does not take much effort to make a unique design. Simply rolling diagonally or creating small swirls with the paint roller can give the room an interesting look that suits your own preferences. The most important thing to remember when texturing sheetrock is to be consistent with the design you choose.
Resources
"HOMETIME HOW TO, Drywall – Finish Coat and Texture." HOMETIME. N.p., n.d. Web. 10 Nov. 2010. http://www.hometime.com/Howto/projects/drywall/drwl_7.htm.
"Marshalltown Texture Sprayer – E400 at The Home Depot ." Home Improvement Made Easy with New Lower Prices | Improve & Repair with The Home Depot. N.p., n.d. Web. 10 Nov. 2010. http://www.homedepot.com/Building-Materials-Drywall-Tools-Texture-Sprayers-Hopper-Guns/h_d1/N-5yc1vZ1xh3Zas27/R-100645882/h_d2/ProductDisplay?langId=-1&storeId=10051&catalogId=10053.