How to Void an Invoice in QuickBooks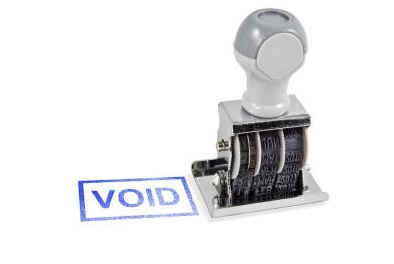 If you are a new to using Intuit's QuickBooks accounting software, you may be wondering how to void an invoice in QuickBooks. Although widely recognized to be easy to use, the program is not completely intuitive. There are three commonly used methods of rendering an invoice void, dependent upon your particular circumstances: voiding an invoice, deleting an invoice, and negating an invoice through the application of a credit memo.
Voiding an Invoice
Voiding an invoice in QuickBooks is relatively simple. This method is usually preferred over deleting an invoice, as the sales information and invoice number will be retained for any future auditing. Access the invoice you wish to void (using the Customer Center), the right-click the screen in the "Bill To" field and select "Void Invoice" from the menu. The invoice amount will be zeroed and it will be marked as paid. Be sure to save the change to the invoice by selecting the "Save & Close" or "Save & New" button.
Deleting an Invoice
This method of deleting an invoice should be used with care, as it will erase all data previously contained on the invoice. This option should be used only if the invoice was never printed. To delete an invoice, open the invoice and select "Delete Invoice" from the "Edit" menu (or use Ctrl + D as a short-cut).
Negating an Invoice with a Credit Memo
There may be times when it is desirable to close an invoice but to preserve all of the details of the sale, as in the return of a faulty item. In this instance, you can issue a credit memo to the customer for the sold item and its amount, then apply that credit memo to the outstanding invoice in the "Receive Payments" section. When a customer is selected to apply a payment, QuickBooks will notify the user that the customer has credits that are available. Completing this action will effectively close the invoice and it will not appear on the customer's statement. Using a credit memo also allows you to list the reasons that an item is returned (or service not accepted), and to accept partial returns on an invoice. As with voiding an invoice, this method allows for better audit protection that deleting an invoice.
Resources
Intuit Small Business
Quickbooks
http://www.intuit.com/
Capachietti, Leslie
QuickBooks 2010 The Official Guide
New York: Mcgraw-Hill Osborne Media, 2009. Print.
MS, Stephen L. Nelson CPA MBA
QuickBooks 2009 For Dummies
New York: For Dummies, 2008. Print.