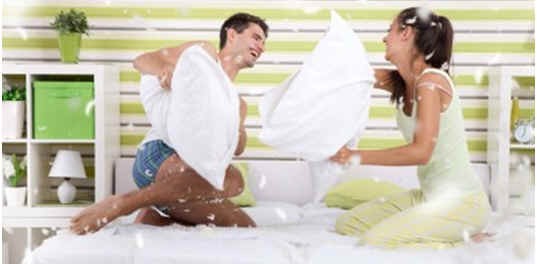 Although most of us frequently wash sheets and pillowcases, few people know that it's both possible and important to wash pillows themselves, as well. Whether you're preparing your guest room for visiting friends and family, trying to rid your home of spring allergens or you just want to maximize your home's cleanliness, read on to learn how to wash pillows.
Synthetic Pillows
Remove pillowcases and place two pillows into your washer, one on the left and one on the right, to balance out the load.
Set the washing machine to delicate, and fill it with hot water.
Use a mild liquid detergent, which will be gentler on pillows and won't cause a residue like powder detergents sometimes can.
Run pillows through the rinse cycle twice to ensure they are rinsed fully.
Machine dry on low heat, adding a clean tennis ball to the dryer to help avoid lumps.
Down and Feather Pillows
Remove pillowcases and place pillows in a clean bathtub, basin or sink.
Hand wash in warm, soapy water for five minutes per pillow.
Wring out as much water as possible, then air dry in a sunny location.
Memory Foam Pillows
Remove pillowcases and check the label to see if your particular foam can be machine washed, or whether you must hand wash them.
If they can be machine washed, use the gentle cycle and warm water, along with a small amount of liquid detergent.
If they must be hand-washed, use warm, soapy water and rinse thoroughly.
Foam pillows cannot be placed in the dryer, so air dry or line dry them in a sunny spot either inside or outside.