Is Asthma Considered a Disability?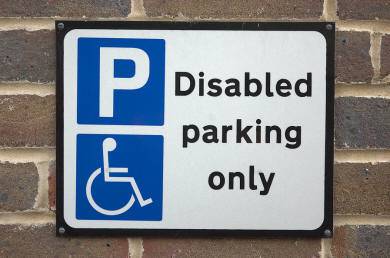 The U.S. government's Social Security Act deems asthma as a disability-supporting condition when specific patient criteria is met.(1) Asthma is classified under the broader heading of chronic pulmonary deficiencies. A person, based on their height when not wearing shoes, must meet doctor-verified minimum levels of forced vital capacity (FVC).
Americans with Disabilities Act
In 1992, the Americans with Disabilities Act (ADA) decreed that the operators of public facilities and spaces were obligated to make sure that people with asthma enjoyed the same level of full enjoyment and access as those without.(2) The legislation bases its precepts on the definition of "major life activities." One of those, along with eating and working, is the fundamental human body activity of breathing.
This legislation has had far-reaching impact. In the case for example of a private school, a student with asthma cannot be denied enrollment because their condition requires the administration of medication and-or the inclusion in the cafeteria of special snacks. Nor can the school refuse admission because of a fear that their insurance costs will increase. The particular section of the ADA that relates to asthma is Section 504.
Workplace Related Asthma
Unions for firefighters have stringent disability retirement guidelines. These edicts came into play on a scale never before seen in New York City after the 9/11 terrorist attacks.
However, one case involving a retired 43-year-old NYFD worker made headlines for different reasons.(3) John Giuffrida, who retired in 2003 because of a combination of asthma, lung disease, and post-traumatic stress disorder, ran into trouble when he was found to be participating in mixed martial arts matches. He claimed that he had undertaken an active lifestyle at doctors' orders.
Giuffrida's case was reviewed by the Fire Department Pension Fund Board in June, 2011, at which time the arbiters deadlocked. In response, the city of New York decided not to fight the case, despite the fact that an independent medical review board pronounced that he was no longer disabled. Giuffrida was also deemed OK to return to work by the board, making him the first FDNY disability fireman in memory to merit that boomeranged distinction.
Resources
(1) Social Security Online – Disability Programs: Respiratory, Adult, Retrieved August 7, 2011 from http://www.ssa.gov/disability/professionals/bluebook/3.00-Respiratory-Adult.htm
(2) Asthma and Allergy Foundation of America – Americans with Disabilities Act: How It Affects You, Retrieved August 7, 2011 from http://www.aafa.org/display.cfm?id=9&sub=19&cont=255
(3) New York Post – "He's Not Injured, But Union Let Him Keep Disability", July 17, 2011, Retrieved Auguist 7, 2011 from http://www.fireengineering.com/index/articles/Wire_News_Display.1459101163.html