Is Mercury Bigger than Earth?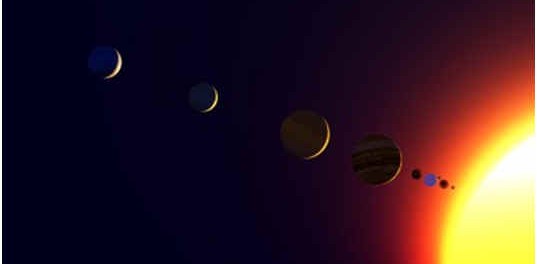 ANSWER:
Mercury is NOT bigger than Earth.
More Info: Mercury is less than half the size of the earth with a mean radius of about twenty five hundred kilometers compared to the mean radius of the Earth, which is roughly six thousand four hundred kilometers.
The Planet Mercury
Mercury is the planet closest to the sun in the Solar System and has the shortest orbit around the sun, equal to about eighty-eight earth days for a single orbit. Mercury also rotates very slowly, completing only three rotations for every two orbits around the sun.
Space Probes Visiting Mercury
There have been a couple of probes sent to Mercury, but because of the proximity of Mercury to the sun and its small size, these missions are difficult to pull off and rare. The first probe to orbit and study Mercury was Mariner 10 in the 1970s. The MESSENGER space probe is currently active and in orbit around Mercury and is expected to remain operational status until the year 2013.
Can You See Mercury with the Naked Eye?
It is possible to see Mercury with the naked eye. However, it is difficult since it requires optimum conditions to see. When optimum conditions are in effect, the planet is easy to see with the naked eye.
Resources
"Solar System Exploration: Planets: Mercury: Facts & Figures." Solar System Exploration. N.p., n.d. Web. 13 Dec. 2012.  http://solarsystem.nasa.gov/planets/profile.cfm?Object=Mercury&Display=Facts
"The Voyage of Mariner 10." NASA. N.p., n.d. Web. 13 Dec. 2012. http://history.nasa.gov/SP-424/