Is Sheetrock the Same as Drywall?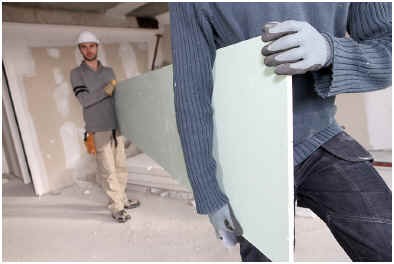 ANSWER:
Yes, sheetrock is the same as drywall.
More info: Drywall, the sheet of gypsum plaster pressed between thick sheets of paper used in building applications, goes by many generic names including gypsum panels, wallboard, and plaster board.  There are also several trademarked names for drywall so called for their commercial manufacturers such as Sheetrock®, Gyproc®, and Gib®.  Sheetrock® and drywall seem to be the two most prevalent terms used in construction.
Drywall Construction-The Term Is Misleading
The term drywall construction is broad and does not necessarily mean that gypsum board will be used in the application.  Drywall construction simply refers to the construction of interior walls in a dry condition, versus wet applications that must dry such as plaster.
There are several types of wallboard used in drywall construction, each with its own characteristics and include gypsum panels, asbestos-cement panels, plywood, and fiber-and-pulp boards.  Gypsum panels are the most commonly used in drywall construction applications.
How Is Sheetrock® Made?
According to USG Corporation, Sheetrock® is the most widely used gypsum panel on the market.  Gypsum is a naturally occurring mineral composed of a hydrous sulfate of calcium.  The gypsum rock is then pressed between two pieces of paper. In fire-resistant products, such as Sheetrock® glass fibers are mixed with the gypsum base.  Sheetrock® brand gypsum panels are available in three thicknesses that include half-inch, three-eighths inch, and one-quarter inch.
Resources
"SHEETROCK Brand Gypsum Panels by USG Corporation." USG Corporation – Leading the building materials industry.. N.p., n.d. Web. 1 Nov. 2011. <http://www.usg.com/sheetrock-gypsum-panels.html>.
"drywall construction — Britannica Online Encyclopedia." Encyclopedia – Britannica Online Encyclopedia. N.p., n.d. Web. 1 Nov. 2011. <http://www.britannica.com/EBchecked/topic/172445/drywall-construction>.