Is the Mealybug a Scale Insect?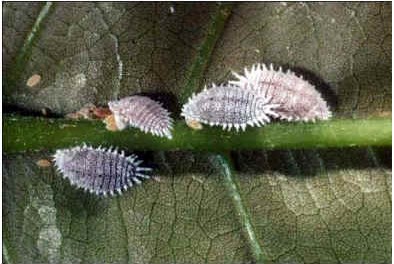 ANSWER:
The mealybug is a scale insect.
More Info: Scale insects are homopterous, having piercing, sucking mouthparts used to feed on plant juices, from the family Coccidae. Scale insects have a white waxy coating, which is produced as a byproduct of secreted honeydew.
What Does a Mealybug Look Like?
A female mealybug looks like a small, white oval divided into many sections. Her body is pink, but is covered with a white, waxy substance that she produces. The wax serves to protect her and her young. An adult female mealybug is generally one and a half to three millimeters in length with multiple legs. There are spines at the base of a female mealybug's flat body. Alternatively, a male mealybug is smaller than the female. A male mealybug also has wings that are flat against its back. Depending on the type of mealybug, males can be brown in color.
What Is a Scale Insect?
A scale insect is any of about 8,000 insect species in the order Hemiptera. Scale insects vary in size and shape, ranging from 1-2mm and oyster-shaped to 1-2cm and reminiscent of a beetle. Most are parasites of plants, leeching sap directly from the plant's vessels. The females of the species are predominantly immobile; remaining attached to whatever plant they are feeding off of for life. Males have wings but never feed, thus their lifespan never exceeds about two days. Scale insects excrete a waxy defensive coating that resembles fish or reptile scales, making them resistant to pesticides and other bugs.
Resources
"Scale Insects and Mealybugs on Ornamental Plants." University of Florida IFAS Extension. University of Florida, n.d. Web. 22 June 2011. <edis.ifas.ufl.edu/mg005>.
"Scale Insects." UNIVERSITY OF FLORIDA ENTOMOLOGY AND NEMATOLOGY DEPARTMENT. N.p., n.d. Web. 29 June 2011. <http://entnemdept.ufl.edu/fasulo/woodypest/scales.htm>.
"Introduction to Mealybugs." CUES: Center for Urban Ecology and Sustainability. University of Minnesota, n.d. Web. 29 June 2011. <www.entomology.umn.edu/cues/inter/inmine/Mbugs.html>.