Is There a Connection Between Emphysema and Hardwood Floors?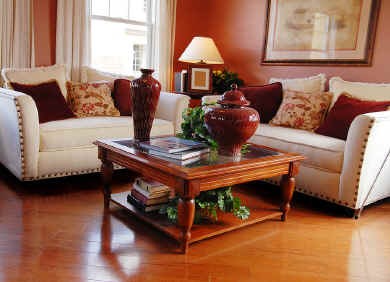 Answer:
There is not a direct connection between emphysema and hardwood floors.
More Info: People may connect emphysema with hardwood floors because some hardwood flooring products contain Formaldehyde, which if inhaled in high concentrations for a period of time can exacerbate breathing difficulty in those with existing respiratory conditions.
What Is Formaldehyde?
Formaldehyde, organic compound CH2O, is a colorless gas with a pungent odor. It is used in a variety of applications including permanent adhesives commonly used in the manufacture of pressed wood products.  Formaldehyde is classified by OSHA, NTP, and IARC as a "probable or potential carcinogen" in humans.  [2]
Found in some carpeting and hardwood flooring the release of Formaldehyde emissions will decrease with age.  Newer installations will release emissions at a higher rate in instances of high humidity or high indoor temperatures.
Health Effects of Formaldehyde
Formaldehyde can cause a burning sensation of the eyes, nose, and throat.  In some it may cause nausea and may even cause difficulty in breathing, especially for those with an existing respiratory condition. Studies have shown that Formaldehyde to cause cancer in animals and may be a potential carcinogen to humans.  [1]
Additional Respiratory Effects of Wood Flooring
Builders may also be at an increased risk for respiratory issues associated with sawing or sanding hardwood flooring as the wood dust by-product can present  throat and lung irritation resulting in coughing, wheezing, sinusitis, and prolonged colds. [2]
REFERENCES:
[1] "Formaldehyde | Indoor Air Quality | US EPA." US Environmental Protection Agency. N.p., n.d. Web. 21 June 2011. <http://www.epa.gov/iaq/formalde.html>.

[2] Material Safety Data Sheet Timbercreek Hardwood Flooring." Timbercreek Hardwood Flooring. N.p., 15 Feb. 2003. Web. 21 June 2011. <www.timbercreekhardwoodflooring.com/images/TC_MSDS.doc>.