Laminate Countertop Repair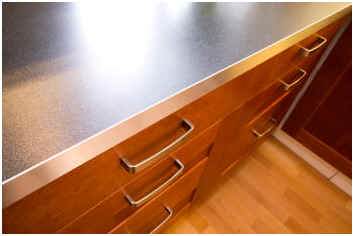 If you have had a laminate countertop for any length of time, you understand exactly why it's important to know a few tricks of the trade for laminate countertop repair. While these types of countertops can look fantastic, they can also be damaged over time, leaving your kitchen or bathroom counters looking worn and unattractive.
Common Laminate Countertop Damage
Laminate countertops can be marred by a number of different things. For example, they can be burned, the edges or corners can start to lift, and the laminate can become chipped. All of these lead to a less than attractive appearance. Some of these problems are relatively easy to fix, such as laminate that is coming loose or small chips or scratches. On the other hand, there are also laminate countertop repair jobs that may require a professional, or even require you to resurface your countertops.
Do-It-Yourself Laminate Countertop Repair
Some damage to laminate countertops can be repaired for a fraction of what it would cost to replace the countertop all together. For example, there are specially made plastic fillers that can fill in cracks and once sanded smooth and a top coat is applied, the countertop will look new. Likewise, peeling laminate can also be relatively easy to repair on your own as long as the counter's substrate (the surface under the laminate) is in good condition. In this case, you can use a contact cement to re-adhere the laminate to the substrate. You need to be very careful however, because contact cement can be very unforgiving. Finally, minor burns can often be scrubbed away with a mild abrasive scrubbing tool and/or a cleaner with an abrasive grit. Be careful to make sure the abrasive is fine so that you don't make the problem worse by scratching the countertop as well.
When to Call on a Professional
If the damage to your countertop includes a deep burn or the laminate has melted, a professional may be able to help repair the damage, but you will need to either have some matching laminate on hand or find some that can be used. A professional is suggested, for major laminate countertop repair because this job involves cutting away the damage and replacing the damaged area. A professional will be better equipped to ensure that more damage isn't done and that the repair looks as good as it possibly can. A professional may also be able to help with large chips or missing sections of the laminate.
Irreparable Damage to Laminate Countertops
Unfortunately, there are situations where the damage to the countertop is irreparable either by yourself or a professional. In these cases, the only solution is to completely replace the countertop. One of the best examples of the type of damage that requires a replacement countertop is when the counter substrate, or the wood beneath the laminate, is also badly damaged. This is often the case with water damage, which can cause the wood to rot or warp so that the laminate cannot be glued back in place.