Laminate Countertop Scratches and Stains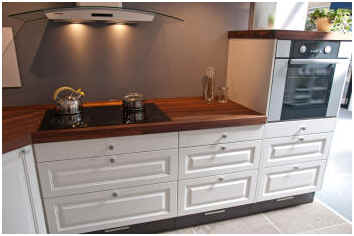 Laminate countertop scratches can be repaired at a fraction of the cost of replacing the countertop. Scratched, cracked, and burned countertops can be repaired to a like new appearance by having the countertop resurfaced. Homeowners can easily repair small chips and scratches on the laminate countertops themselves. Both repair options will save homeowners money. The best plan is to avoid scratches on the laminate countertop. Homeowners can follow a few simple tips to prevent scratches and to protect their laminate countertops.
Repairing Severely Damaged Laminate Countertops
Deep scratches can often be repaired by using a porcelain repair kit. The homeowner will want to match the color of the repair kit as closely as possible to their countertop. Be sure to check the repair kit for colored epoxy. For a more in depth repair, plastic filler can be used to repair cracks in the laminate countertop. After the filler has been applied and has set up, it is sanded. The countertop is then sprayed with a topcoat that will give it durability and will improve the appearance of the repair. Another option to repairing a damaged area is to install a drop-in cutting board. In this procedure, the damaged area is cut out of the countertop, and a drop-in cutting board is installed into the countertop.
Repairing Minor Scratches on Laminate Countertops
Minor scratches and chips can be easily repaired using a seam filler or laminate repair paste. Both products are made by the laminate countertop manufacturers. Countertop manufacturers and distributors offer fillers and repair paste to match their laminate countertop colors. This will make it easier for homeowners to match the colors needed for their repair. The seam filler should be applied in thin layers until the scratch disappears. If using repair paste, it needs to be applied and allowed to dry for five minutes. Once dried, the excess paste can be cleaned and removed with a solvent.
Tips to Prevent Scratching the Laminate Countertop
The best way to avoid repairing scratches and other damage to laminate countertops is by protecting the countertop. Most damage to laminate countertops comes from improper use of the countertops. One important thing to remember is to never use the countertop as a chopping board. The finish is not designed to withstand the sharp edge of a knife. Laminate countertops are not heat resistant. Homeowners should never place hot objects directly on the laminate countertop.
Resources
"Countertop Options." Kitchen Design Channel – A Bob Vila Web Site. N.p., n.d. Web. 25 Aug. 2010. http://kitchens.bobvila.com/Article/295.html.
"Plastic Laminate Countertops – Keidel Bath, Plumbing, Kitchens – Cincinnati, OH." Keidel Bath, Kitchen, Plumbing, Cabinetry, Appliances – Cincinnati, OH. N.p., n.d. Web. 25 Aug. 2010. http://www.keidel.com/design/select/tops-matl-laminates.htm.