Pros and Cons of Travertine Tile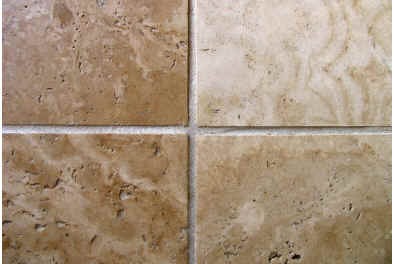 The pros and cons of installing travertine tile must be considered before purchasing travertine tile for use in the construction or renovation of your home. Some of the pros are its ageless appearance, its resistance to extremes in temperature, and its non-skid qualities. Some of the cons to using travertine are its high reactivity to weak acids, which would counter indicate kitchen use, and its natural imperfections, which would affect the uniformity of color and pattern.
Ageless Appearance
Travertine stone does not need to be sealed and will look good longer than most building material, especially for the exterior walls of buildings. It already looks old and weathered, so it gives a distinctive look to new buildings, and its appearance will not deteriorate for centuries. The natural stone appearance is timeless and attractive than manufactured materials such as concrete. The travertine walls and flooring have been known to outlast the building itself.
Impervious to Temperature Extremes
Travertine withstands weather extremes and temperature extremes of hot and cold. Travertine stays cool even in direct sunlight, which makes it suitable for swimming pools and outdoor furniture such as park benches. It resists cracking and other physical changes with changes in climate, such as extremely freezing temperatures. This quality would give excellent insulation to buildings for which it is used as walls and floors. Its resistance to hot and cold water damage also makes travertine suitable for shower walls and floors.
Don't Slip on the Travertine
The natural non-slip texture of travertine is another reason that makes travertine tile an excellent choice for swimming pools, shower walls, and floors. The natural pits and holes in this textured, porous surface are not slick and slippery in its unfilled and unpolished state.
Reactivity with Weak Acids
Travertine is composed of calcium carbonate, which is highly reactive to vinegar, orange juice and other weak acid food substances encountered in the kitchen. Because of this, travertine may not be suitable for kitchen countertops where it may be exposed to acidic foods on a regular basis. A good sealer will protect it to a certain extent, but if it is not sealed adequately or often enough, or the sealer is scratched or worn off, regular kitchen use will ruin the travertine surface. If it is used in the kitchen, a filled travertine tile is preferable to an unfilled surface. In the instance of an unfilled surface food will become entrapped in the pitted holes and other natural stone imperfections making it impossible to have a sanitary surface needed for food preparation.
Lack of Uniformity of Appearance
As travertine is a naturally occurring stone, not all the tiles in the shipment may look exactly like the sample. The colors and patterns in the appearance may not be uniform. Care must be taken in arranging the tiles to ensure the desired result. A premium grade of travertine tile will have more uniformity and less imperfection than a lower quality travertine.
Resources
"FAQ." Travertine – 60 % Off Retail Prices. N.p., n.d. Web. 18 May 2010. http://www.wholesaletravertine.com/TGWFaq.aspx.
-2010,  ©BuildDirect 2001. "Travertine Tile FAQs." Laminate & Hardwood Flooring, Bamboo & Tile Floors & More – BuildDirect. N.p., n.d. Web. 18 May 2010. http://www.builddirect.com/Travertine-Tile/Travertine-Tile-Flooring-FAQ_7246.aspx.