Can You Resurface Laminate Countertops?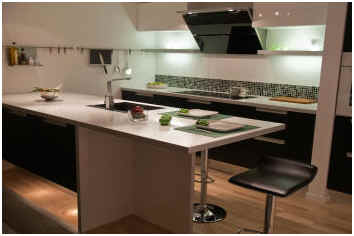 Can a countertop be remodeled and made to look like a new one? Absolutely. Updating any countertop is not as difficult as you might think, and is a very affordable do-it-yourself project. With the proper tools and attentiveness, you can accomplish the task in a few hours.
Laminate Material
While there are a many colors and patterns to chose from for countertop material, as well as many brands, all are made of the same materials, and you'll find all suitable for your needs, so it's really a matter of color and pattern choice. Most people think of Formica® as the generic name, though Formica® is actually a specific brand of laminate. Others may include Wilsonart®, Nevamar®, Pionite®, and Arborite®. Wherever countertop laminate is sold at a home center nearby, you'll find one that easily meets your desire and goal.
Basic Tools
If you're a homeowner, you may already have many of the tools you'll need to complete the project from start to finish. Necessary tools can include a belt sander or sanding block and sandpaper, brush or roller, steel square, utility knife, contact cement, rubber mallet and wooden block, dowels rods, power saw with fine blade, router and bit, cleaning solvent, mill file, and wax paper. Not all tools will be necessary for all laminate resurfacing projects.
The Bottom Line
While there is a measure of expertise involved in re-laminating, most homeowners can undertake this project successfully in a matter of hours. Whether you choose to hire a professional or take on the project, resurfacing laminate is a lot less expensive than starting from scratch using all new materials.
Resources
"Post-Formed Countertops Simplify Installation." My Home My Style Magazine – Home decorating and improvement". N.p., n.d. Web. 25 Feb. 2010. http://www.workbenchmagazine.com/main/wb000-postform01.html
"Laminate Counters – Issue No. 291." My Home My Style Magazine – Home decorating and improvement". N.p., n.d. Web. 25 Feb. 2010. http://www.workbenchmagazine.com/main/wb291-laminate01.html
"Countertops, how to choose."Consumer Reports: Expert product reviews and product Ratings from our test labs". N.p., n.d. Web. 25 Feb. 2010. http://www.consumerreports.org/cro/home-garden/bed-bath/bathroom-remodeling/bathroom-makeovers/bathroom-makeovers-805/how-to-choose/how-to-choose-countertops.htm