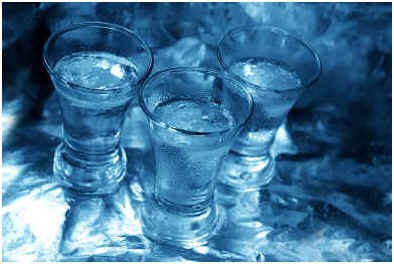 Diplomats, aristocrats, and the famous alike have long savored a glass of fine vodka. They don't bother with the sweet concoctions that many young people prefer today. The old sophisticates prefer their vodka straight, smooth, and splashed over a few well-chilled ice cubes. Anthony Hopkins is such an example having been quoted as saying in a tongue-and-cheek fashion, "I have a punishing workout regimen. Every day I do 3 minutes on a treadmill, then I lie down, drink a glass of vodka and smoke a cigarette."
Because today's vodka drinkers are combining their libations with such a varied combination of ingredients often to excess, many do not realize that choosing a quality vodka can completely change the quality of their favorite cocktails. If you are interested in changing your taste experience here are a few of the more common brands of vodka in order of preference.
Belvedere®
Dubbed a luxury vodka, Belvedere® is one of the few premium vodka's from Poland. When seeking a vodka to enjoy on the rocks, Belvedere® is a smooth choice with hints of vanilla and cream. This brand can enhance any cocktail but is top choice for enjoying unadulterated.
Grey Goose®
Hailing from Western France in the cognac region, Grey Goose® hails itself as the world's best tasting vodka. Of course, the truth of this statement lies with the individual palate alone, but if available, it is one vodka that should be requested by name.
Grey Goose® Vodka is one that offers class to a cocktail, but finishes beautifully served on ice alone.
Absolut®
A cut above generic brands, Absolut® vodka is available at nearly any tavern. Recognizable by its label-less, clear design, the bottle was fashioned after old-time pharmacy bottles. Introduced to the United States in 1979, Absolut® was a Swedish tradition since the late 1800's. Added to any cocktail, Absolut® has a smooth and subtle finish.
Ketel One®
Dubbed as a super-premium vodka known for its personality, Ketel One® hails from Holland and is made in small batches which are personally owner approved. With a hint of citrus and honey, Ketel One® has a clean, cool finish.
Smirnoff®
A Russian vodka, Smirnoff® is one of the best selling vodka's in the world. With a value-based price tag, Smirnoff® is often the vodka of choice for use in cocktails at taverns and private homes alike. Bold tasting vodka enthusiasts may prefer this vodka to those more subtle as the finish has slightly more bite than higher priced brands.
Resources
"Vodka Quotes – BrainyQuote." Famous Quotes at BrainyQuote. N.p., n.d. Web. 14 Dec. 2011. http://www.brainyquote.com/quotes/keywords/%20vodka.html