Traveler's Check vs Credit Card?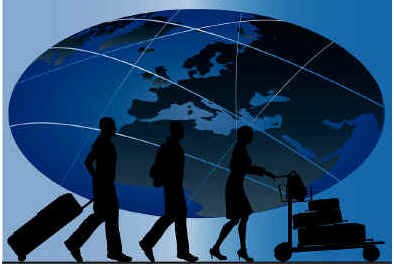 In the fall of 2008, an interesting twist occurred in Australia with regards to traveler's checks. Locals Down Under were purchasing them in large numbers from American Express not because they were about to go on vacation, but rather because the Australian dollar was at a record exchange high. They were buying the checks with plans to hoard them until they eventually did travel, locking in the value now for foreign use later. It's a mark of just how ingenious people have become that traveler's checks can now be used as a form of smart investing.
Identity Theft Concerns
Another benefit of traveler's checks over credit cards is that the former are not tied to any crucial personal information such as name, bank account, address, and so on. It takes very little these days for an astute thief to get on the trail of a person's personal identity. In some busy foreign cities, there are criminals who specifically focus on the idea that they have a few weeks of leeway before the victim gets home and starts to resume their usual financial routine.
American Express traveler's checks, the gold standard ever since they were invented a century ago, present lower service fees than the cost of withdrawing money at a foreign ATM. Often, there are two ATM fees abroad: the one charged by the traveler's bank, and another tacked on by whichever local financial institution they happen to fall upon. It can quickly add up.
Locked In Currency Rates
American Express offers traveler's checks in six different foreign currencies: Euros, Japanese Yen, Chinese Yuan, the Canadian dollar, the Australian dollar, and the British pound. Given the sudden foreign currency exchange fluctuations, those traveling on medium to large budgets can save a good chunk of cash by locking in the exchange rate before their trip, through the purchase of traveler's checks.
Resources
Sydney Morning Herald
The Benefits of Travelers Checks
http://www.smh.com.au
American Express
Traveler's Checks: Benefits and Protection
https://www212.americanexpress.com
Expert Opinion
"Keep in mind that while you may get a more favorable exchange rate when using a credit card, many credit card service providers charge an additional percentage fee of one to three percent. A three percent fee may make a difference on large ticket items."
Taking Money Abroad: A Guide for Travelers, Wells Fargo Bank