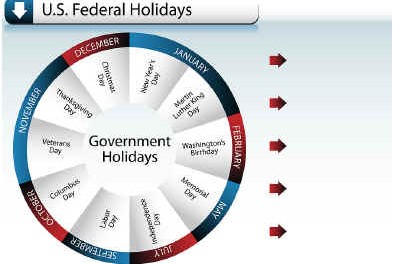 It is interesting to note that there has never been any holiday declared a national holiday that would be legally binding in all fifty states.  All federal holidays are applicable by law only to federal employees and in the District of Columbia.  Each state has the right to govern its own holidays.
Federal Holiday's List
New Year's Day                                           January 1
Martin Luther King, Jr. Day                     Third Monday January
Washington's Birthday                              Third Monday February
Memorial Day                                             Last Monday May
Independence Day                                      July 4
Labor Day                                                   First Monday September
Columbus Day                                           Second Monday October
Veteran's Day                                             November 11
Thanksgiving                                              Fourth Thursday November
Christmas                                                   December 25
Martin Luther King Jr. Day: Commemorates the civil rights leader's January 15 birthday. The holiday was established in 1986 but was not recognized as a holiday in all states until 2000.
Washington's Birthday: Commemorates President George Washington's February 22 birthday. The holiday was established in 1885 and moved to its current Monday date in 1971.
Memorial Day: Commemorates the men and women who have died in the service of the United States. The holiday was officially established in 1868 and was originally called Decoration Day named after the tradition of decorating soldier's graves.
Independence Day: Commemorates the adoption of the Declaration of Independence.  The holiday has been celebrated since the date of the signing in 1776. It became an official federal holiday in 1870.
Labor Day: Commemorates working men and women. The holiday was established in 1894.
Columbus Day: Commemorates the landing of Christopher Columbus in the Americas on October 12, 1492. The holiday was established in 1937
Veteran's Day: Commemorates all veterans of the US military.  The holiday was established in 1954.
Thanksgiving: Tradition derived from the Pilgrims first feast with the members of the neighboring Wampanoag Indian tribe. In 1863, President Lincoln declared the last Thursday of November to a day of thanks giving and praise. In 1939 President Franklin D. Roosevelt moved the holiday to the third Thursday of November.  Amid confusion, the holiday was officially moved back to the fourth Thursday of November in 1941.
Christmas: A Christian holiday celebrating the birth of Jesus Christ.  The holiday was established in 1870.