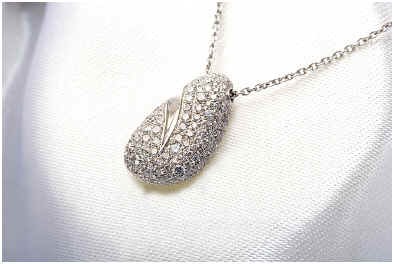 The word paveʹ is derived from the French word meaning paved or cobblestoned and refers to a jewelry setting that aligns the stones close together with a bead setting.  In a bead setting a hole is impressed in the metal of the jewelry in which each individual gemstone is placed, then a beading tool is used to seal the metal around the gemstone.  Unlike a prong setting, the metal is not visible giving the appearance to the piece that it is "paved" with diamonds.
Other Diamond Setting Options
There are numerous settings to choose from when purchasing a piece of jewelry but just a handful are used most frequently.
Prong Setting: The prong setting is likely the most common setting for rings.  In the prong setting, a number of v-shape strips of metal are joined together to form a cup to hold the gemstone, then pressed over the top-edges of the gemstone to hold it in place.
Bezel Setting: Likely the oldest setting for jewelry, with the bezel setting a band of metal encompasses the gemstone giving the appearance that the gemstone is beneath a rim of metal that is holding it in place.
Channel Setting: Two horizontal bars of metal running parallel create a channel setting in which any number of stones are placed and secured.
Cluster Setting: One large gemstone surrounded by a variety of smaller stones in any shape or design is referred to as a cluster setting.
Resources
Diamonds: the Antoinette Matlins buying guide : how to select, buy, care for & enjoy diamonds with confidence and knowledge. 3rd ed. Woodstock: GemStone Press, 2011. Print.
"Know Your Stone Settings ." Jewelry.com . N.p., n.d. Web. 25 Oct. 2011. <http://www.jewelry.com/education-diamond-settings.shtml>.