What Are the Side Effects Associated with the Pneumonia Vaccine?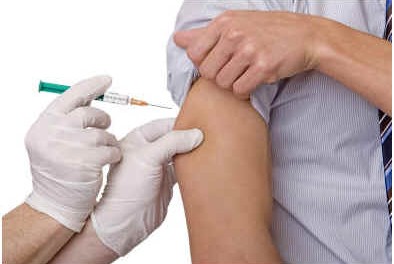 Many studies have been conducted to determine patient side effects to the pneumonia vaccine. Overall, roughly half of those submitting to the vaccine shot experienced mild side effects of one kind or another. Symptoms such as soreness and swelling at the spot on the arm where the injection was administered cleared up generally after a day.
The One Percent Group
In about one out of 100 pneumonia vaccine recipient cases, there are more serious residual reactions to the syringe. In these cases, patients experience muscle pain, fever, and more serious than normal swelling or pain in the arm.
The scientific name for the pneumonia vaccine is "pneumococcal polysaccharide." The antibiotics cocktail is intended to protect the human organism from the "streptococcus pneumoniae" virus in the lungs, blood, and brain.
Target Patient Groups
The vaccine is not 100% effective, and belongs to the inactivated-bacteria group of such injections. This means that rather that infect the body with the virus so that the human system can develop an immunity to the disease, the pneumonia vaccine helps teach the body how to attack the virus if it later appears.
The pneumonia vaccine is recommended for anyone who crosses the threshold of 65 years of age, as well as a number of high-risk patients of any age. The latter group includes: smokers ages 19 and above; patients who have had their spleen removed; sufferers of sickle cell disease; HIV patients; cancer patients; and certain Native American populations over that age of 50.
Fatalities
News of celebrities and others who have died from "complications from pneumonia" are a reminder of just how valid a vaccine can be. Even though the vaccine targets only a certain form of the disease.
Recent statistics, for the year 2006, show that 55,477 Americans overall died of the disease. For the streptococcus pneumoniae virus, which has been found to be the most common form of bacterial pneumonia contracted outside of hospitals, there are approximately 175,000 cases in the U.S. each year, with a fatality rate of five to seven percent.
Resources
Foundation for Better Healthcare – Pneumonia Prevention: It's Worth a Shot, Retrieved June 12, 2011 from http://www.fbhc.org/Patients/Modules/pneumonia.cfm
National Institutes of Health – Pneumococcal Polysaccharide Vaccine, Retrieved June 12, 2011 from http://www.nlm.nih.gov/medlineplus/ency/article/002029.htm
American Lung Association – Pneumonia Fact Sheet, Retrieved June 12, 2011 from http://www.lungusa.org/lung-disease/influenza/in-depth-resources/pneumonia-fact-sheet.html