What Are the Steps to Creating a Marketing Plan?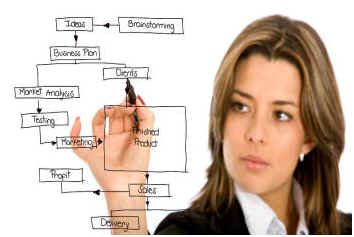 Creating a marketing plan helps business owners control marketing expenditures, measure results and stay the course. It should provide you with a clear direction for your marketing efforts for the coming year, and readers should get an insightful look into your company. Before you start creating your marketing plan it is important to note the five sections that should be presented in every marketing plan.
Target Market
The first section of your marketing plan should describe your mission, the services and benefits you provide and the potential groups of users or clients. This section should describe who your ideal client is and why you like working with them. This should include demographics such as age, gender and any other important characteristics. Business to Business companies should list your targets by category and include specific criteria for them.
Situational Analysis
What do you offer that others do not? Once you identify what makes you different, you can look at the threats posed by your competitors. Describe any external elements such as traffic levels, changes in the law or new businesses in the area that will have an impact. Company strengths, weakness, opportunities and threats are presented here.
Marketing Goals
Marketing goals for the coming year should be presented in one page or less. Keep your goals specific and measurable so you can evaluate performance. You may wish to increase sales by a certain percentage amount or set a number of new clients you would like to acquire. Be practical in establishing your goals.
Marketing Strategy
Different strategies work for different markets, therefore, several may be required for success. This will be the bulk of your plan and should include all of the steps planned for advertising, public relations, trade shows, promotions and direct mail. Ensure you consider each of the marketing mix decisions: product, price, place and promotion.
Marketing Budget
The final section of the marketing plan includes a breakdown of the costs associated with each of the steps in your strategy. You can keep track of what you need to spend on marketing without it getting out of control. If you find the tactics you've chosen are too costly, you can go back and make revisions before you finalize.
Resources
Gordon, Kim T.. " Marketing, business – Write a Simple Marketing Plan." <em>Entrepeneur</em>. N.p., n.d. Web. 17 Feb. 2010. <http://www.entrepreneur.com/marketing/marketingcolumnistkimtgordon/article60000.html>.
"Small Business Administration – Write a Business Plan." <em>Small Business Administration.</em> N.p., n.d. Web. 17 Feb. 2010. <http://www.sba.gov/smallbusinessplanner/plan/writeabusinessplan/serv_bp_markanal.html>.
Comstock, Beth. "A Marketer Is a Terrible Thing To Waste – BusinessWeek." <em>BusinessWeek – Business News, Stock Market & Financial Advice.</em> N.p., n.d. Web. 17 Feb. 2010. <http://www.businessweek.com/innovate/content/sep2009/id20090921_471157.htm>.