What Causes a Jellyfish to Sting?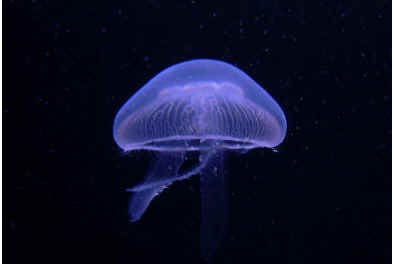 The great majority of instances where a human being is stung by a jellyfish are rooted in the circumstances of an accidental encounter. A good analogy to use would be: imagine wandering into someone's backyard without ever being able to see or hear a barking dog, and then suddenly brushing up against the canine. That's how most people encounter jellyfish in the ocean; the wade directly into or very near one, and the organism responds as it has been programmed to.
Ignoring the Signs
In the fall of 2010, one of the largest ever influxes of jellyfish occurred at Hawaii's famed Waikiki Beach. Despite a tripling of signage in the area by lifeguards, warning beach-goers to stay out of the water, many jellyfish sting victims subsequently confessed during treatment that they willfully ignored the warnings.
Thus, another large reason for jellyfish stinging of people is human recklessness. Tourists who come to Hawaii are there to swim, and despite signs telling them during the fall 2010 influx of jellyfish to stay out of the water, they dipped into the waves anyway. In this case, the stings were not serious and could be treated on site by lifeguards.
Down by the River
Although jellyfish are inevitable associated in people's minds with the Atlantic, Pacific and other large ocean bodies, they can also invade rivers. In Australia, around the same time as the above mentioned Hawaii invasion, the Swam River was similarly hit by an influx of a species known as the carybdea xaymacana.
Experts were quoted as saying that it was unusual to find a swarm of the size of this one in waters so far inland from the oceanfront. Global warming proponents might point to that phenomenon as a reason for this aberration of jellyfish, but it could be the result of any other number of factors. In all cases, a good immediate way to deal with minor jellyfish stings is to flush out the bite area with vinegar.
Resources
EmedicinHealth – Jellyfish Stings, Retrieved December 19, 2010 from http://www.emedicinehealth.com/jellyfish_stings/article_em.htm
KITV – "Dozens Stung as Jellyfish Invade Oahu South Shores", November 30, 2010, Retrieved December 19, 2010 from http://www.kitv.com/news/25964953/detail.html
In My Community – "Jellyfish Warning", November 26, 2010, Retrieved December 19, 2010 from http://www.inmycommunity.com.au/news-and-views/local-news/Jellyfish-warning/7576972/