What Causes Ceiling Cracks in Sheetrock?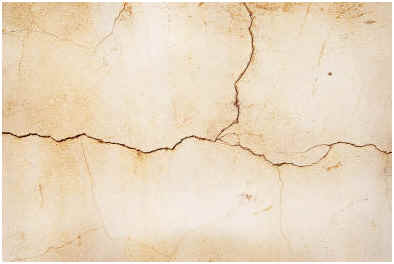 Sheetrock is one of the best materials with which to build walls and ceilings because of its lightweight and its ease of installation. However, it is susceptible to damage, which includes cracks in the ceiling. There are many reasons that sheetrock ceilings can crack, including the house settling, drastic temperature changes, seepage of water, and improper installation. In order to prevent these occurrences, it is important to keep the temperatures even in buildings where sheetrock is used, to prevent water leaks, and to be sure to install the material the correct way.
Temperature Change
Sheetrock can be sensitive to drastic temperature changes. Heat and humidity can cause cracking because it can prevent the complete drying of the joint compound, which will in turn prevent the full bonding action needed for the sheetrock to maintain its integrity. The humidity absorbed by the sheetrock will cause the gypsum in the sheetrock to expand and the paper with which it is made to soften. Cold or low temperatures can also cause cracking, because these kinds of temperatures also prevent complete bonding, which leaves sheetrock weak in certain areas and more likely to crack.
Seepage of Water
Because sheetrock is lightweight, it can be vulnerable to the intrusion of water. If there is seepage due to plumbing problems from the rooms above a sheetrock ceiling, this can very easily cause cracks in the surface. Water can also cause mold and can collect into the areas below and damage them.
Improper Installation
There are many ways to install sheetrock improperly. One of the ways to do this is to insufficiently embed the tape to the joint compound. When this is not done properly, the sheetrock may crack at the edges, since it will move naturally. Other installation issues include fastening the ceiling sheetrock too close to the edge of the wall, which restricts sheetrock's natural flexing movements and causes cracks.
Resources
"Drywall – How To – Builder Magazine." Builder Magazine: Home Building News, Home Planners, Home Design Ideas and Building Products for Home Builders. Web. 09 Nov. 2010. http://www.builderonline.com/how-to/interior-finish-drywall.aspx.
"Drywall – Plaster." Ask the Builder – The Home Improvement Resource. Web. 09 Nov. 2010. http://www.askthebuilder.com/DrywallPlaster.shtml.
"Preventing Drywall Cracks : Interior Finishes : Best Practices : HGTVPro.com." HGTVPro – The Online Network for Home Building, Home Improvement and Remodeling Professionals. Web. 09 Nov. 2010. http://www.hgtvpro.com/hpro/bp_interior_finishes/article/0,2617,HPRO_20148_4583432,00.htm