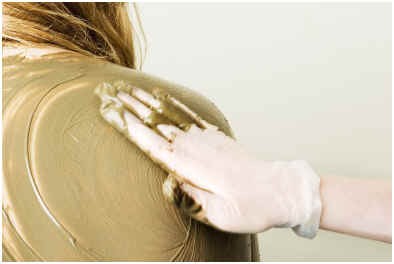 If you've seen any of the advertisements for salon or home body wraps on television, heard them on the radio, or read them in the newspaper, you're probably wondering exactly what the definition of a body wrap is. After all, how can one product claim to slim your waistline, reduce the appearance of wrinkles and cellulite, detoxify your body, exfoliate your skin, and reduce your blood pressure?
Body Wrap History
The first body wraps were just ace bandages or plastic wrap wound tightly around the body. They promoted rapid weight loss through water loss.
Modern Body Wraps
These days, wraps are a much more involved process. The first step is usually to exfoliate the skin with either dry brushing techniques or a salt scrub. This is supposed to allow the substances contained in the wraps to penetrate the skin more deeply. Salons with shower facilities usually ask that their clients take a warm shower as the second step, both to clean the skin, and to open the pores. At this point the wraps, which are usually an ace bandage-like cloth that has been soaked in substances ranging anywhere from organic mud to essential oils, depending on what the specific purpose of the wrap is, are wound tightly around the body, including, sometimes, the face if the purpose of the wrap is to reduce wrinkles or promote skin tightening. After the wraps are applied, the client is usually covered either with a towel or blanket to provide some warmth, or with a plastic heat-retention outfit. Plastic-heat retention outfits specifically accelerate water loss, although most spas don't admit to this. Some spas further promote water loss by asking their clients to exercise on a treadmill or elliptical machine while wrapped in the body wraps and wearing the plastic suit.
A Few Words of Warning
Some people experience claustrophobia during body wraps. If you feel uncomfortable, asking a salon employee to stay with you during your wrap may help alleviate your symptoms. Rapid weight loss due to water loss can cause dehydration, especially if you exercise during your wrap. Many of the ingredients contained in wraps can cause allergic reactions. Expose a small amount of the ingredients to a patch of skin on your arm 48 hours before your scheduled body wrap. If your skin doesn't react, you're unlikely to experience an allergic reaction during your wrap.
Resources
"Body Wraps." Plastic Surgery – Consumer Guide to Plastic and Cosmetic Surgery. N.p., n.d. Web. 5 Apr. 2010. http://www.yourplasticsurgeryguide.com/day-spas/body-wraps.htm.
"Health | The rap on body wraps | Seattle Times Newspaper." The Seattle Times | Seattle Times Newspaper. N.p., n.d. Web. 5 Apr. 2010. http://seattletimes.nwsource.com/html/living/2004101585_bodywraps020.html.
"Hollywood Detox Body Wrap Review | How It works, Pros/Cons, In-Depth Reviews." Diet Reviews | Reviews of weight loss programs, diet pills and fitness plans.. N.p., n.d. Web. 5 Apr. 2010. http://www.dietspotlight.com/hollywood-detox-body-wrap-review/.