What Is a Fertility Ritual?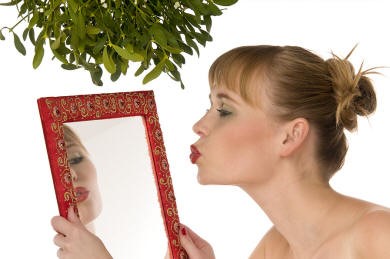 Many people may not realize it, but every time two people are caught under the Mistletoe during the Christmas holiday season and dutifully kiss each other, they are repeating an ancient Middle Ages fertility ritual. The Druids believed in the magical powers of the plant and encouraged anyone looking to have children to bask in its powers.
A fertility ritual is essentially some scripted mode of behavior or worship, thought to bring about an increased chance of female impregnation. In the 21st century, men and women come up with all sorts of non-medical rituals that they think might increase their chances of conceiving a baby. But really, it comes down to specific moments of a woman's ovulating cycle and the strength of the man's sperm that count.
Traditions of the Kabalah
The Hebrew word Kabalah means "tradition." The namesake religion practiced by Madonna and other celebrities is a separate entity altogether, although some of the folk rituals adopted by Jewish believers over the years have erred more to the side of superstition than religion.
According to the book The Encyclopedia of Jewish Myth, Magic, and Mysticism, among the fertility rituals that have been practiced by Jewish believers are the literal eating of rubies; drinking a certain cup of water after circumcision; and incantations, scripts spoken aloud to fight against a woman becoming barren.
Extreme Rituals
Another Jewish practice, quickly banned by Rabbis, was the eating of foreskin after circumcision. As crazy as that sounds, there are women and men today who believe that if you eat the afterbirth of a woman's child delivery (the placenta), it can increase the chances of future fertility. The key word in all of these cases is ritual, not fertility. A ritual is a non-scientific tradition, rooted in a culture's region, religious beliefs, and historical struggles. In Chinese medicine, the use of placenta as a medical aid is much more common than in the Western World, although it is often prescribed for sufferers of anemia rather than infertility.
REFERENCES:
Irish Independent – "December Reveals Its Riches", December 7, 2010, Retrieved December 16, 2010 from http://www.independent.ie/farming/news-features/december-reveals-its-riches-2450423.html

Llewellyn.com – Ancient Fertility Rituals, Retrieved December 16, 2010 from http://www.llewellyn.com/blog/2010/06/ancient-fertility-rituals/

Dennis, Geoffrey W.. The encyclopedia of Jewish myth, magic and mysticism . Woodbury, MN: Llewellyn Publications, 2007. Print.