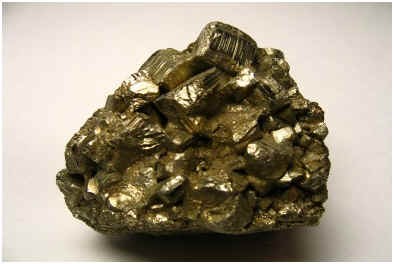 Fool's Gold Is a Mineral
The mineral called fool's gold is actually iron pyrite.
Iron pyrite is a shiny, yellow mineral that is abundant in the Earth's crust and has often been mistaken for gold.  Historically, the seasoned prospector would know the difference between gold and iron pyrite but the amateurs often dragged their finds to the nearest assayers earning the mineral the name 'fool's gold'.  Seasoned prospectors knew that iron pyrite is brittle and will crack when struck.  It will also spark when struck due to its high iron content.
Fool's Gold Is a Movie
The name of a 2008 movie, Fool's Gold is the story of an estranged married couple that rekindle their passion while searching for treasure. The movie stars Mathew McConaughey and Kate Hudson.
Resources
"Iron Pyrite." University of Wisconsin Department of Chemistry. N.p., n.d. Web. 1 Dec. 2011. https://www.chem.wisc.edu/deptfiles/genchem/lab/ptl/ptl/Minerals/pyrite.html
"Fool's Gold (2008) – IMDb." The Internet Movie Database (IMDb). N.p., n.d. Web. 1 Dec. 2011. http://www.imdb.com/title/tt0770752