What Is Sheetrock Made of?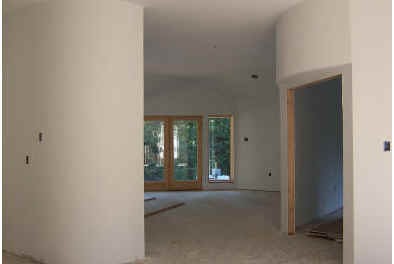 At the core of an individual sheetrock panel, used for the construction of residential and business components such as walls, partitions and ceilings, is a layer of the soft mineral gypsym. It is made of calcium sulfate dihydrate and takes its name from the Greek word for chalk or plaster. The gypsum core is then wrapped in a heavy, reinforced grade of paper that is tighly folded and vacuum packed to preserve the mineral. Edges are usually tapered to allow for easy fitting of two or more panels together.
New Environmental Concerns
In California, the imminent arrival of a sweeping new climate bill known as AB32 is going to bring with it some fundamental changes in how gypsum and sheetrock is produced. Instead of relying on conventional gas and diesel engine power to create the heat to manipulate and mold the gypsum, it is expected that energy from solar panels will be used instead. The solar panels used for this and other industrial applications are a little different from the ones that can be seen on top of residential homes. Typically, they are suspended about 20 feet above ground and can generate highly concentrated blasts of heat energy.
Chinese Drywall Problems
Many people didn't give sheetrock, or drywall, much thought until the recent revelations that Chinese manufacturers of this product had made in a cheaper form that resulted in an unhealthy levels of hydrogen sulfide. In some cases, owners of homes and businesses have been forced to tear out large portions of the structure and replace it with government certified sheetrock. When the U.S. Consumer Product Safety Commission engaged the Lawrence Berkeley National Laboratory to test Chinese drywall products, the results were worse than anyone could have feared. Each of the country's top ten manufacturers had products that emitted, on average, 100 times more hydrogen sulfide than the comparable American product. A U.S. class action suit has been filed as a result of the metal corrosion and individual health problems caused by the faulty drywall.
Resources
WebMineral.com – Gypsum Data, Retrieved November 30, 2010 from http://webmineral.com/data/Gypsum.shtml
USG.com – SHEETROCK Brand Abuse-Resistant Gypsum Panels, Petrieved November 30, 2010 from http://www.usg.com/sheetrock-abuse-resistant-gypsum-panels.html
Teuters – "Making Sheetrock Without Fossil Fuels", Retrieved November 29, 2010 from http://www.reuters.ocm/article/idUS121414836520101129