What Is the Purpose of a Water Tower?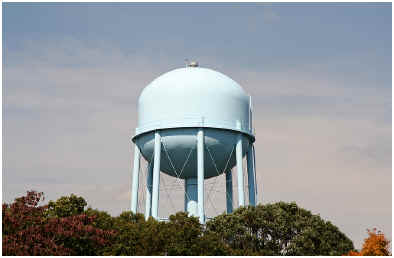 At the turn of the 20th century, there were approximately 500 standpipe water towers dotting the landscape of the United States.(1) Today, only seven of these remain, and each is protected under the National Register of Historic Places.
Prior to modern pumping methods, cities relied on steam-driven pumps to send water to city residents. The large vertical structure of a standpipe water tower was added to these systems to equalize water pressure and prevent water surges. Three of today's seven remaining "old school" water towers can be found in the city of St. Louis.
Modern Use
Today, water towers are used for the dispensation of H2O rather than control of water flow. They are found typically in developing countries, remote rural areas, or on large construction sites. In the case of Hollywood studio lots or other U.S. urban environments such as the roofs of New York City buildings, they contain a water supply that is tapped in the event of fire.
Water towers of this type can be built to just about any desired configuration, and rely essentially on gravity to allow water above the level of those needing it and using it to drain down by means of a connected industrial grade hose or embedded sprinkler system. Bases for water towers can take the form of an "X" design, "Y design, and other looks.(2). Water towers can also be enclosed or open; in the case of the former, a number of different elements can be added to the roof such as a lookout platform or enclosed lookout roof.
Nebraska Standoff
Water towers have a long history of being used in Hollywood movies as the scene of standoffs between criminals and the police. They also occasionally take on that role in real life. In August 2011, a criminal was sentenced to two years in jail for trespassing and damaging a water tower in Nebraska, Omaha.(3)
The 37-year-old man was apprehended after a four-hour standoff with police and charged eventually with trespassing, criminal mischief, and resisting a peace officer. Though water towers present a tempting laddered target to teens and daredevils, the punishment for climbing these structures can be severe.
Resources
(1) City of St. Louis Water Division – Water Towers, Retrieved August 7, 2011 from http://www.stlwater.com/watertowers.php
(2) Water-Towers.com – Main Questionnaire, Retrieved August 7, 2011 from http://www.water-towers.com/wtrscustomplans2.html