What Role Does Cultural Diversity Play in Advertising?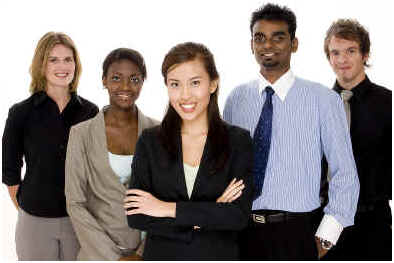 At a fall 2010 conference of the Association of Hispanic Advertising Agencies (AHAA), attendees agreed that while some companies such as General Mills, McDonald's and Time have done a great job of dividing up their ad campaigns to target the Hispanic population, African-American U.S. residents and others, many other firms are still lagging behind.
The important thing to understand, these agencies insisted, is that the United States is a "salad bowl" rather than a "mixing bowl." While different cultures and ethnic groups make up a larger portion of the American population, they tend now to retain a great many of their original sociocultural characteristics rather than blend in like the mythic American dream chasers of old. For this reason, targeted and niche advertising is going to play an increasingly important role.
Online Advertising
A separate study by Internet media measurement firm ComScore found that U.S. Hispanics are more inclined to enjoy online ads than non-Hispanics. Thirty-one percent of Hispanics surveyed said they were receptive to Internet and wireless device ads, while only 19% of non-Hispanics noted the same. More critically, 35% of Hispanics said they remembered advertised products when shopping as opposed to only 22% of non-Hispanics surveyed.
Advertisers trying to reach the exploding U.S. Hispanic population will do well do budget a larger amount of that campaign expense to online channels rather than offline ones. Especially if the ads relate to children's products. Another finding of the survey was that 30% of Hispanics were influenced by ads when shopping for their kids, compared to 15% of non-Hispanics.
Multicultural Award Winners
Each fall, the Association of National Advertisers (ANA) holds a Multicultural Advertising Conference. The awards handed out at the November 2010 edition in Miami provide a good window into which companies are succeeding in the realm of multicultural advertising. Among the Grand Prize award winners were McDonald's for African-America, Metropolitan Life Insurance for Asian and McDonald's again for Hispanic. The fast food chain really is an ad driven behemoth.
A keynote speaker at the ANA 2010 event declared that yesterday's minorities have evolved into today's general market. What this means is that multiculturalism is a de facto element of the U.S. mass market audience, and any company failing to embrace that notion will fall behind. However, one attendee of the Miami event still bemoaned the Caucasian nature of most ad agency top ranks and the lack of proper discussion of multiculturalism at many of the year's other annual ad industry conferences.
Resources
PR Newswire – "Multiculturalism is the New Mainstream", November 22, 2010, Retrieved December 8, 2010 from http://www.prnewswire.com/news-releases/multicultural-is-the-new-mainstream-109876049.html
Marketwatch.com – "U.S. Online Hispanic Consumers More Likely to Have Positive Association with Advertising Online Than Non-Hispanics", November 17, 2010, Retrieved December 8, 2010 from http://www.marketwatch.com/story/us-online-hispanic-consumers-more-likely-to-have-positive-association-with-advertising-than-non-hispanics-online-2010-11-17?reflink=MW_news_stmp
Association of National Advertisers – 2010 Multicultural Excellence Award Winners, Retrieved December 8, 2010 from http://www.ana.net/content/show/id/20696
Ad Age – "Move Multicultural Marketing from the Ghetto to the Golf Course", December 8, 2010, Retrieved December 8, 2010 from http://adage.com/bigtent/post?article_id=147542