What to Do When You Are Stung by a Jellyfish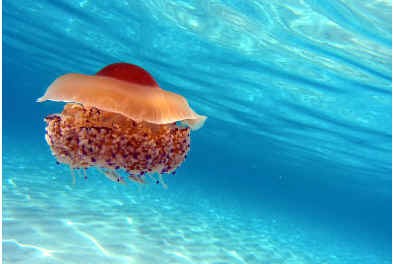 If you are stung by a jellyfish immediate treatment is necessary to stop the pain. Follow these steps to a faster recovery.
Do:
Before you do anything else, get out of the water and remove yourself from the area where the sting occurred. Even tentacles that are separated from the jellyfish can sting.
Remove the tentacle. If any part of the tentacle is still attached to the body, remove it with an object, such as tweezers or a stick, rather than your hand.
Inactivate the Nematocysts. Jellyfish inject nematocysts that will continue to inject toxins until removed. The simplest and most effective remedy to remove nematocysts is plain white household vinegar. The cure-all is so well accepted that beaches in Australia, where jellyfish are prevalent, are lined with stands that sell vinegar.
Soak a clean cloth or paper towel in vinegar.
Completely cover the sting with the vinegar cloth and let sit for thirty minutes.
Do not rub into the wound, as this will activate more nematocysts that will inject more toxins.
Other products that inactivate nematocysts are rubbing alcohol, baking soda, ammonia, lemon juice, and limejuice.
Remove the Stingers: Once the nematocysts have stopped firing, you can remove the stingers from the skin. Rub the area with shaving cream first to hinder any nematocysts that have not yet fired, and then shave the area with a razor or straight edge such as a credit card. Reapply the vinegar when complete.
Do Not:
Rub the wound
Use fresh water
Apply Ice
Resources
ZEZIMA, KATIE. "Death Does Not Deter Jellyfish Sting – NYTimes.com." The New York Times – Breaking News, World News & Multimedia. N.p., n.d. Web. 2 Dec. 2010. http://www.nytimes.com/2010/07/23/us/23jelly.html.
REDDY, DR. ARCHANA. "Old Wives' Tale? Urine as Jellyfish Sting Remedy – ABC News." ABCNews.com – ABCNews.com: Breaking News, Politics, World News, Good Morning America, Exclusive Interviews – ABC News. N.p., n.d. Web. 2 Dec. 2010. http://abcnews.go.com/Health/story?id=2283933&page=1.