Which Hand Does the Engagement Ring Go On?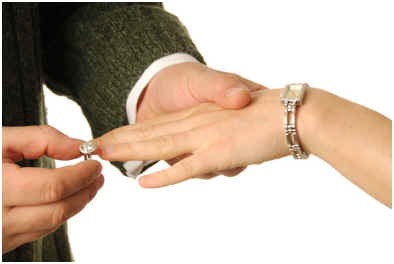 ANSWER:
An engagement ring goes on the third finger of the left hand.
Engagement Ring History
While an Austrian Archduke is known to have commissioned the first diamond engagement ring in 1477, it wasn't until the discovery of diamond mines in South Africa in the 19th century that the practice began spreading to the general populace. It took another half-century for the custom to take hold in North America, fueled by changes in some arcane common laws and a World War II era national advertising campaign from De Beersy, by 1965 an astonishing 80% of American women had diamond engagement rings.
Ring Finger Significance
Although the notion of wearing an engagement ring on the fourth finger of the left hand has its origins in a Roman era belief that this finger was connected by a long vein to the human heart, other traditions such as diamonds being the preferred gemstone for engagement rings and the idea that the price of the ring should be equivalent to two months' of the giver's salary are all elements that have been buttressed by the North American retail jewelry industry.
Once the concept of wearing an expensive betrothal ring had firmly taken hold in North America, De Beers and its advertising partners focused their efforts on international markets, with equally remarkable results. When a carefully crafted campaign was launched in Japan in 1967, less than 5% of Japanese women wore diamond engagement rings. By 1981, the proportion had risen to 60%.
American Trends
More recently, the trend among North American women has been to both get more involved in the purchase of engagement rings and to seek to personalize them with a different choice of design or gemstone. In fact, as a testament to just how much the roles of couples have changed, an interview of 10,000 U.S. couples for a new De Beers study showed that in a number of cases, women are now simply handing their husbands-to-be the wrapped left-hand, third finger engagement ring of their choice, along with the purchase receipt.
Resources
"The trouble with engagement rings. – By Meghan O'Rourke – Slate Magazine ." Slate Magazine. N.p., n.d. Web. 11 Aug. 2010. http://www.slate.com/id/2167870.
"Vena amoris : Who, What, Where, When." Serving History . N.p., n.d. Web. 11 Aug. 2010. http://www.servinghistory.com/topics/Vena_amoris.
"Have You Ever Tried to Sell a Diamond? – Magazine – The Atlantic." Breaking news, analysis and opinion on politics, business, culture, international, science, technology, national, food – The Atlantic. N.p., n.d. Web. 11 Aug. 2010. http://www.theatlantic.com/magazine/archive/1982/02/have-you-ever-tried-to-sell-a-diamond/4575/.